>> Thursday, October 21, 2010
PLEASE visit the link below to my precious friend, Tamara's site called Branch of Wisdom!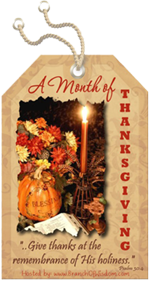 She is doing an amazing thing for bloggers! It will be SO encouraging! And there's a prize involved! You really win all the way around. I want you to hear it from her so please! go visit her site!!! I hope you will join us as I am joining her to do this as well. I am excited about the posts I will be writing! Be Thankful!