>> Thursday, October 21, 2010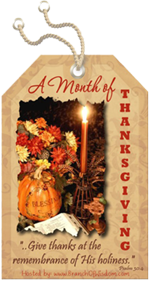 To encourage others to join in with Tamara and everyone else, including me, who signs up... I am going to offer a prize. Sweet Tamara can let me know when she does the prize who the 2nd one to get a prize would be and I will send to the 2nd one.
My surprise will be a nice, wonderful surprise!
So, please join in! Blessings!